Naturally our very top choice of festive tipple would be wine, that's a given. Obvs!
However, there is always room for something a bit different during the festive season. We decided to have a bit of a straw poll at Inspiring Wines Towers this week and come up with our list of our very favourite festive drinks.
You'll notice from our final 5 that they are all ridiculously easy to prepare and we lean heavily towards Champagne derived cocktails, which probably says a lot about us!
Here are our top 5 festive tipples this holiday season (after wine of course!) in no particular order:
1. Bellini
This one is a doddle, a great addition to your Christmas morning in place of the standard Champagne and OJ. If you can get hold of fresh peaches then great but it's just as good with tinned.
Ingredients:
4 fresh or 1 tin of peaches
Champagne
Preparation:
If you are using fresh chop up the peaches, if a tin, open it.
Blend the peaches in a blender
Sugar the rim of your Champagne flutes
Pour two fingers of your blended peaches into each glass
Top up with Champagne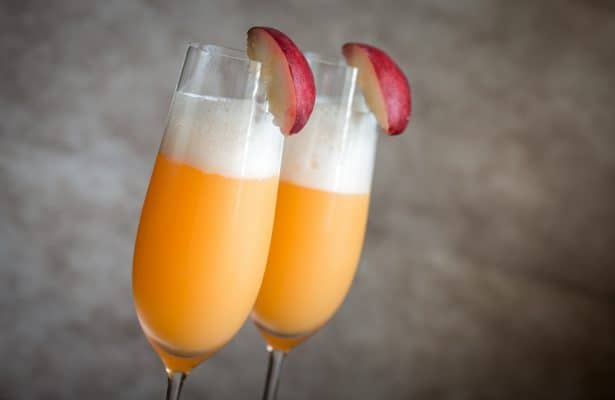 2. French 75
A very simple, refreshing cocktail for the gin lovers out there
Ingredients:
Shot of Gin
Tsp sugar
Lemon Juice
Champagne
Preparation:
Shake the gin, juice and sugar with cracked ice
Pour into a tall glass half filled with ice
Top up with Champagne
3. Boozy Eggnog!
Although very much seen as an American festive tipple, eggnog was once known as 'posset' in Medieval times when it was a hot milky ale drink, it was actually a British invention, very popular as a warming drink sold on the streets for a 'copper' in the then much colder British winters. It was slowly improved over a number of years probably by French Monks who added the eggs and stronger booze to make it resemble more closely the drink we know today.
Ingredients:
10 large eggs
150g sugar
400ml cognac
200ml dark rum
2 pints whole milk
200ml cream
nutmeg to sprinkle
Preparation:
Crack and separate eggs (whites from yolks)
In a bowl, whip the sugar together with the yolks until dissolved.
Gradually stir in the booze and then milk and cream
In a bowl, ceramic is best, whip the egg whites until they form peaks. Gently fold into the mix.
Grate half a nutmeg on top and refrigerate for 1 hour
Serve with a sprinkle of nutmeg on top or rim your glasses with cinnamon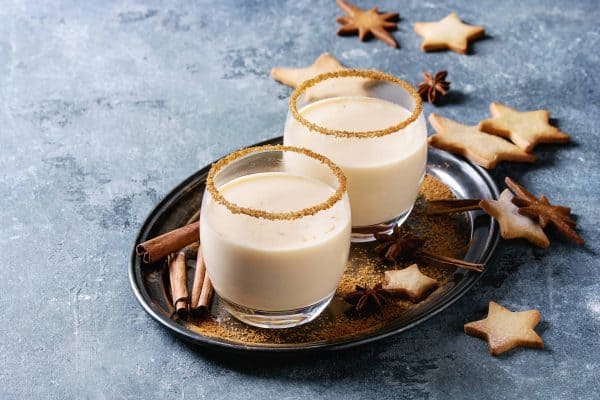 4. Quick and Easy Mulled Wine
An absolute Crimbo classic! It wouldn't be Christmas without getting slightly squiffy on hot mulled wine.
Now, mulled wine really doesn't have to be hard to prepare and take ages, this is our very quick and easy recipe to capture the flavours and taste of the festive season in a warming mug of lovely hot wine. Oh yes please!
Ingredients:
Bottle red wine (something with a bit of body works best)
Cup water
1/4 cup sugar
2 tsp lemon juice
Cloves (5 or 6)
Cinnamon sticks
Apple and/or orange
Preparation:
Pour the bottle of red wine into a saucepan
Add the water lemon juice, spices and sugar
Heat on low and allow to simmer gently – 10-15 mins should be plenty.
Don't let it boil or you'll have very little alcohol in your mulled wine. And that's not good!
Slice up the apple and orange and add half to the to the mixture and keep the rest for garnish.
Allow to stand for a couple of minutes
Serve in mugs with a cinnamon stick, fruit or even grated nutmeg if you are feeling particularly saucy!
Enjoy!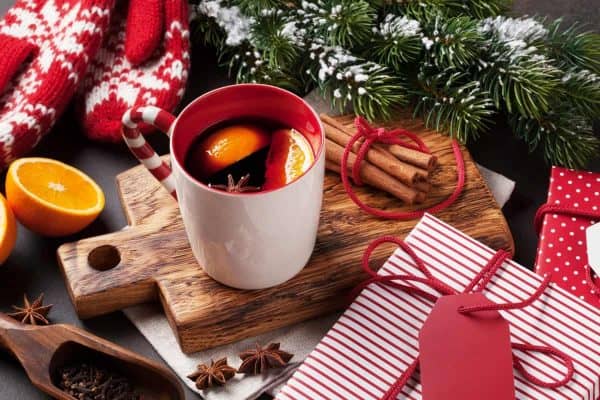 5. Black Velvet
Another Champagne Cocktail makes it on to the list but we couldn't leave this one out.
Ingredients:
Guinness (other stouts are available)
Champagne
Preparation:
Half fill a tall glass with stout
Top up with Champagne
Hopefully we've given you some inspiration to try something a bit different this festive season. None of these recipes take long and they are all extremely tasty, they are a great addition to any cocktail repertoire, especially if the neighbours drop round unexpectedly.
From all of us here at Inspiring Wines we wish you the very finest festive season and a happy and prosperous New Year.
If you have enjoyed this post please share it with your friends